Products
---

"Let me take this opportunity to thank you for the Intimacy study. I have been around Christian groups and Bible studies forever…but have never seen one so well laid out and that so beautifully covers (scripturally) all aspects of our walk with the Lord. Every Christian woman who has not studied the basics of our walk should have to do this study!!! So grateful to you for so generously giving of yourself to put that study together. Your openness and vulnerability expressed in the study created such a climate for our women to freely share their own challenges and questions in their walk." – Patti J., Clayton, NC
---
Christmas Devotional and Memories Journal
The predominate way to make Christmas meaningful to everyone around us is to focus on Jesus, the reason for the season! This Christmas Devotional Journal will help you to keep your eyes on Jesus by:
Giving you 16 life changing Christmas devotions leading up to the birth of Christ.
Empower you with creative ideas to share Jesus in a practical meaningful way in the midst of your celebrations!
Enable you to never forget each passing year by providing 3 years of journaling pages devoted to recording special Christmas memories!
If you love Christmas – you'll LOVE this Devotional Journal!
$13.00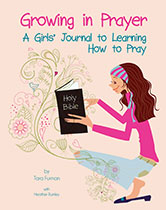 Growing in Prayer – A Girls' Journal to Growing in Prayer
God wants each of us to have our own prayer life, regardless of our age.  Prayer is merely communicating with God! In the Journal, Growing in Prayer, you will:
Learn the Basics to Prayer
Organize your Daily Prayer Needs by the days of the week
Journal the lessons you learn from your time with God
Record your Favorite Bible Verses
Help you establish a regular prayer time!
In the fun interactive Journal, you will learn what the Bible says about specific areas of prayer. As a result, you will learn to pray powerful prayers for your family and friends!
Created for Purpose:   Making a Difference in Your Corner of the World
Do you long to MAKE A DIFFERENCE in your corner of the world? Do you want your life to matter? Do you want your life to have meaning and significance before the God of the Universe? We will all stand before God one day – like it or not. When this happens, will you be embarrassed? Will you have regret? Regardless of your past failures, broken dreams, or perception of lacking talent or ability – Regardless of your season in life: Wife, Mother, Grandmother, Widow, Business woman, Nonprofit Founder, Nurse, Doctor, Real Estate Agent, Women's Ministry Leader, Bible Study attendee etc… God desires you to make a difference in your sphere of influence. Every human being –regardless of gender, race, or nationality is created for a purpose. Your life has been set apart for significance! The God of the Universe has ordained that your precious life bear much fruit. Purposeful, significant, meaningful lives are not just intended for a select few, but for EVERY child of God. In Created for a Purpose, Tara will help you to:
Recognize your unique, God-ordained purpose for every season of life.
Identify the obstacles that hold us back from immensely purposeful lives.
Identify if you've been brainwashed by the world culture or Sister Super Christian?
Gain a new perspective on life's core priorities according to God's standards.
Discern God's voice in your everyday life circumstances.
Be empowered to take the small steps of obedience in order to make a big impact.
7 Week Study
Created for Purpose Bible Study and Journal together
$30.00
Growing Stronger Roots: A Prayer Journal for Organization and Growth
Do you struggle with establishing or maintaining a consistent quiet time? Is your prayer life stale? Are you in need of a fresh touch from God? "Growing Stronger Roots: A Prayer Journal for Organization and Growth" is a prayer journal that helps you to grow past, 'God is great, God is good.'  Regardless of your maturity in the faith, this journal is for all.   Growing Stronger Roots , a spiral bound  journal will:
Explain the basic fundamentals of prayer -
Help you to organize your prayer needs by the days of the week -
Enable you to be faithful in your prayer time -
Teach you to prayer Scripture – yielding powerful results -
Explain how to hear God's voice guiding and directing you -
Give you greater understanding of God's will for your life through the "Listening" section and "Promises" section of the Journal.
Growing Stronger Roots preview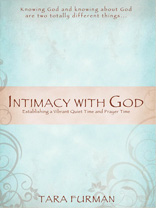 Intimacy with God:  Establishing a Vibrant Quiet Time and Prayer Time Bible
Foundational 7 week Study: Starting with the basics, this study teaches you how to see, hear, and talk to Jesus in your everyday life and circumstances. KNOWING GOD and knowing about God are two totally different things… Are you satisfied knowing God as a mere acquaintance? Is He perhaps your Sunday obligation? Do you yearn to know Him, to walk and talk with Him daily?
God loves you and is passionate about you! He desires more than anything to have a meaningful love relationship with you.  We can have a saved soul, yet live a wasted life.  Life finds meaning and purpose when we know our Creator.
$20.00
Journal and Bible Study together.
$30.00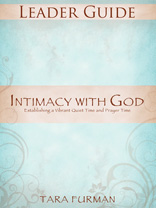 $10.00