Our relationship with Christ is THE most important relationship we and our families can ever establish.   Tara's goal is not only to speak truth into the lives of your women, but to strengthen the Body of Christ in your corner of the world so that eternal, lasting fruit follows for His glorious purposes!
Downloads

Downloadable Bio

Downloadable Photos
"We absolutely LOVED Tara!  We loved her transparency and reference to scripture.  We also appreciated the tools and visuals she offered as well as the encouragement to spend time with the Lord." ∼ Bethany,  St. Pauls UMC, Goldsboro, NC ∼
---
"Tara was amazing, challenging, encouraging and convicting.  She's a dynamic speaker!" ∼ Christina, Mid-Atlantic Christian, Crofton, MD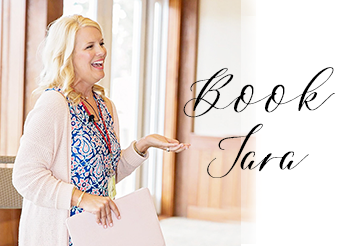 For more information about booking Tara, please fill out and send the form below.
Thank you so much for your interest.